Don't take our word for it.
See what our customers are saying about REV.247.
Your comments and insight are important to us.
We appreciate your feedback because it helps us to
continue to evolve our products to meet your needs.
A great desk for an outstanding price
"The biggest challenge in our previous office space was the size limitations that we had. REV.247 was able to think of a solution with our L-Shaped standing desk. We were able to get a great desk for an outstanding price."

"My favorite REV.247 product is the stand-up desk. It looks great and fits our offices well. It is a unique product with great value. The stand-up desk is the most valuable to me because of the way it fits our offices, how large it is, and it keeps me from sitting all day. Having the choice of standing or sitting has been great for my body. Our stand-up table in our conference room is extremely valuable as well, we can put our camera on the center of it and if we are sitting in a chair on a conference call, we keep it lowered. If we are doing work on a marker board for our clients during a zoom call, we can raise the table to that height so they can see it. Ever since we have received our products from REV.247 I have been recommending their products to clients that come into our new office. They love the product as much as we do. I am very likely to continue recommending REV.247 to anybody that has a need."
Bailey Vansickle, Financial Consultant at VisionPoint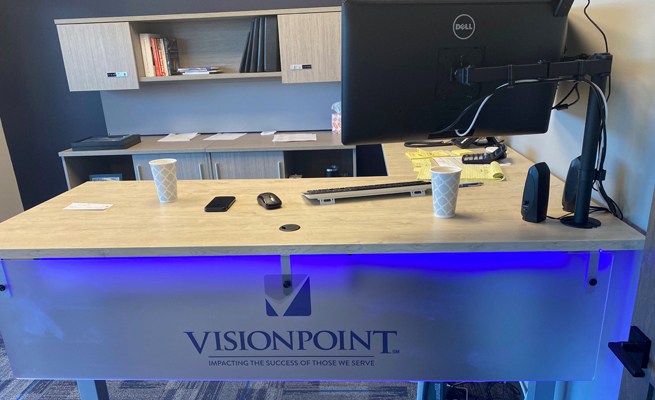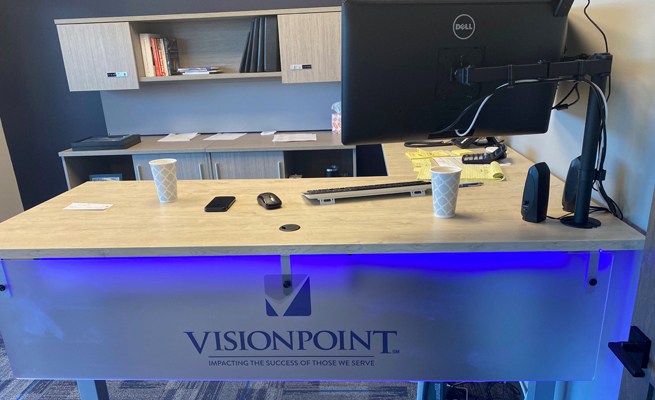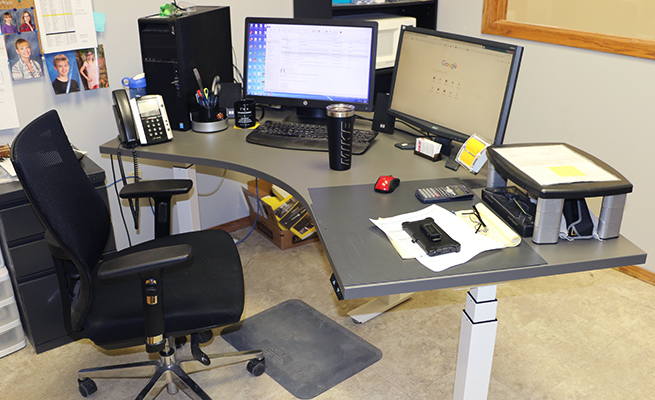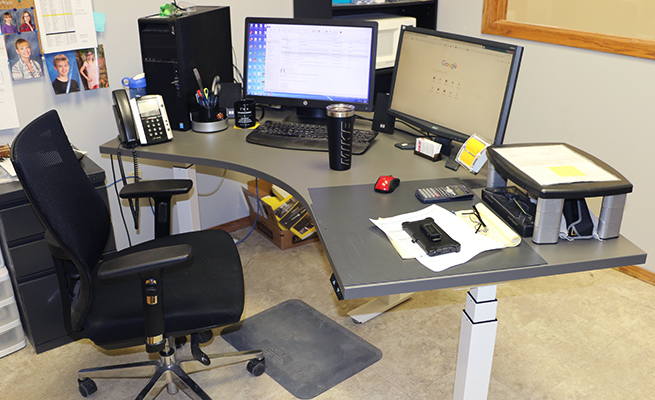 Excellent overall quality & value
"Before I had an old, mismatched desk and drawer set. The top of the desk and the keyboard tray was made of Low Pressure Laminate and the paper thin surface was scratched and peeling in many areas. I chose REV.247 due to the overall quality and value of the product, and my favorite product is the adjustable height desk with an electric motor. It has an easy, push-button adjustment, and a quiet motor. I am 100% likely to recommend REV.247 to others. 5 out of 5 stars!"
Mike Gunderson, Desk-bound engineer at Pivotal Health Solutions
A modern & clean look
"When I first started my position I didn't have a desk, but we knew that we needed to fit one in the corner of the print shop. That is why we chose the REV200 model from REV.247. The L-shaped desk was perfect for the corner and it also gives me plenty of workspace."
"I wanted a desk that gave me the opportunity to sit or stand, and I liked the look of it. REV200 is my favorite product because I love that I can lower the desk to sit and work on long design projects. When I'm sick of sitting for a long time or need to run between printing and my computer, it is nice to raise it up. One of my favorite features is how modern and clean this desk looks. It offers a variety of different colors to choose from to match any work setting. Another one of my favorite features is that it has "favorite buttons" to save the height I like for sitting and standing. I would highly recommend this desk to someone who is in search of a modern sleek look and wanting the capabilities to sit and stand."
Emily Johnson, Graphic Designer at Pivotal Health Solutions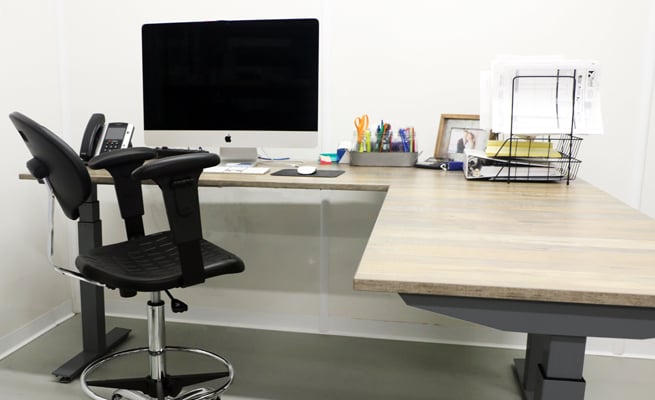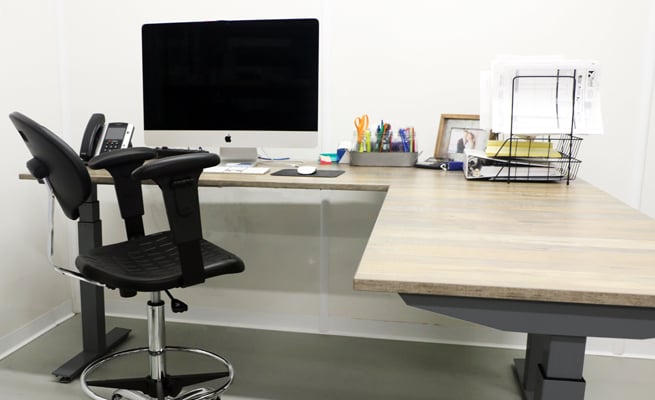 The Rev.247 Difference
As REV.247 continues to grow and evolve, our philosophy and culture remain the same – to be work-centric. How you work best is at the center of what we do by providing innovative office furniture and solutions for a better workspace.
Design
Because the way you work best is unique, REV.247 delivers versatile options for your changing needs. As your career evolves, so does your space.
Quality
Beautifully constructed, REV.247 pieces are handcrafted in the USA by professional craftsmen and women who care about the customers we serve.
Style
Create a distinct look and feel for your workspace to showcase the way you work best. We have tasteful options for a sophisticated look all the way from elegant to contemporary and everywhere in between.
Function
Sync your space with custom options to help you work smarter by providing what you need right where you need it.